The Quick Start Guide is a part of the help System that is implemented into MyConstruct. You can replay this guide and access tips associated with their sections on any page by clicking the "?" button
The Quick Start Guide is available to be accessed at any time from the Home Page (Portal).
---
Step-by-step guide
---
1. Overview
---
The Quick Start Guide is the built in "Getting Started" feature of the MyConstruct.
---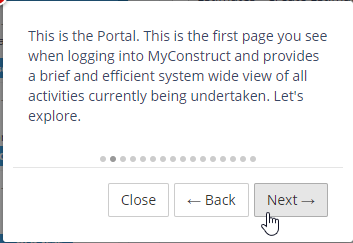 The focus will shift over to the center of the screen for a brief description on how the guide works.
3. Info buttons
---

The focus will shift over to the top informational buttons which contain business stats and act as a form of navigation to each of the key areas the data is being read from. 
4. Messages
---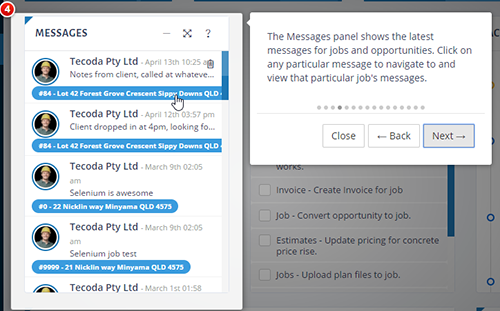 The Messages panel shows the latest messages for jobs and opportunities.
5. Tasks
---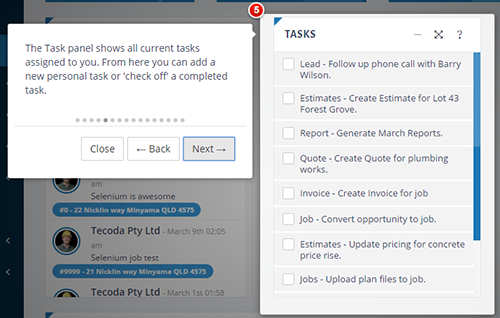 The Task panel shows all current tasks assigned to you. These are controlled via the Tasks menu on the left side and can be assigned to various Checklist items.
6. Activity
---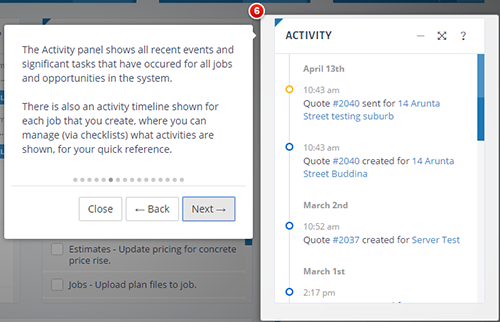 The Activity panel shows all recent events and significant tasks that have occurred for all jobs and opportunities in the system.
7. Schedule
---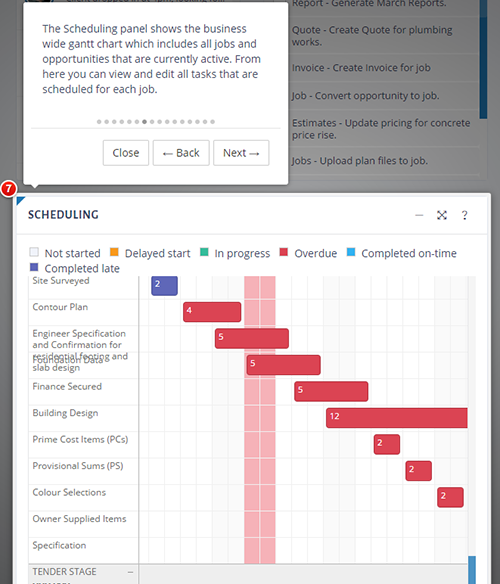 The Scheduling panel shows the business wide gantt chart which includes all jobs and opportunities that are currently active.
---
Stay up to date with what's happening in MyConstruct, with regular updates on new system features and scheduled system maintenance.
Menu
---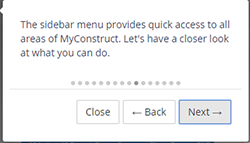 The focus will shift over to the Main Menu with a description shown for each section in the menu.
Our guide will continue within each of the sections of MyConstruct by simply clicking the "?" within any of them.
Completion
---
The guide ends with a prompt to contact the MyConstruct team for further assistance.
Remember: This guide and all of the other guides are available via clicking the "Show me how" button in the help menus throughout MyConstruct.