[Note - this feature is only available in Pro subscription]
MyConstruct has a suite of reporting tools that allow you to track the cost of your jobs by comparing the Ordered values VS the Bills received and comparing them to the Contract, also allowing you to log overruns / additional bills for any extras that may arise along the way.
To create your reporting and P&L breakdowns, first you must learn how and where to log the bills as they come in. Easy! Let's get started.
1. To navigate to "My Bills" simply click on the "Estimates" option and then the sub menu "Manage Bills". This will take you to a table that shows all jobs which have Estimates assigned to them.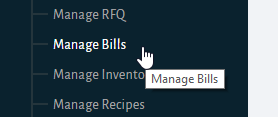 Jobs show in a table that has an overview of the Ordered value VS the Billed values

To log bills against an order, simply click on the "Log Bill" button to the right of the order in the upper section of "Manage Billed Orders"

For any additional costs and extra bills there's a section below called "Additional Bills" this allows you to log any extras on the job.

Once you've got your Estimate and Orders in check and you've started logging Bills as they come in, you can do in-depth reporting including P&L via our Reporting tools tutorial.