To create and invoice in MyConstruct, we must first have a quote to base it on.
Simply create a quote via the quoting module or via an Estimate.
Once you have created a quote, you need to mark it as "Accepted" via the drop-down option of the 'edit' button in the 'Manage Quotes' area, this means the client has accepted the quote and we're ready to move forward with payment.
Once you mark the quote as accepted, if you click the edit drop-down a second time, you'll see a new option 'Generate Invoice' click this to go to the next step.

Now you'll find yourself at a similar screen to the quoting screen but this is to generate our invoice, as you can see on the left side, there's a checkbox for each line item, this allows you to create part-payments or 'split invoices' meaning you can choose to invoice only part of the quote now and then repeat the invoicing process again later to generate an invoice for the next part of the quote. The ability to create payment stages is really helpful if the overall invoice is for a whole project or you need to work to progress claim stages.
Now all you do is select the items you want to invoice, or select ALL items using the check-boxes to the left
All highlighted items will form this Invoice, which will be our first invoice so it'll end in a '1' to show it's stage 1 of all the items to be invoiced, ie: Invoice # 2063.1 (1 being in indicator of the payment stage) for each payment stage we invoice the number will increment.

Just like the Quotes, we have an area for any notes and payment terms as well.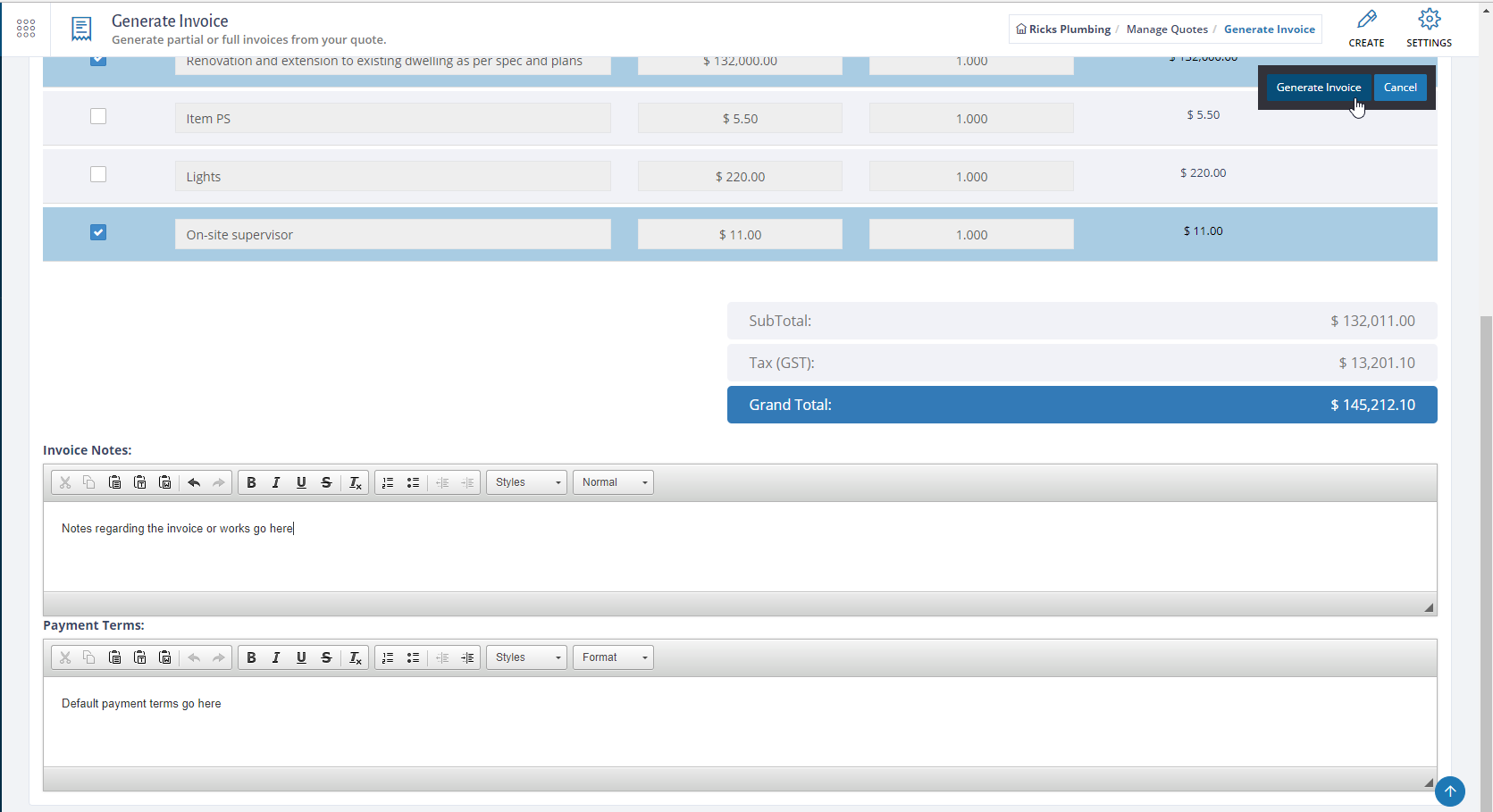 Once you have selected the items to Invoice and you're happy with the notes, simply click on 'Generate Invoice' to proceed to the invoicing area with your new Invoice - ready to go!

The invoice is now generated and stored in the Invoices area in the main menu (and within the Job / Opportunity) - from here you can Email, Print and View the Invoice just like all the other areas of MyConstruct.
Watch the video on Managing Invoices