[Note - this feature is only available in Pro subscription]
Keeping track of price rises is easy with MyConstruct, it just requires a bit of work importing your price rises in advance.
The system works by checking your inventory prices per item and then comparing your current estimate's line items with any prices that have a valid date the is in the future.
Let's take a look at the inventory to better explain this.
First go to the main MyConstruct menu, click on Estimates, Setup and then Inventory.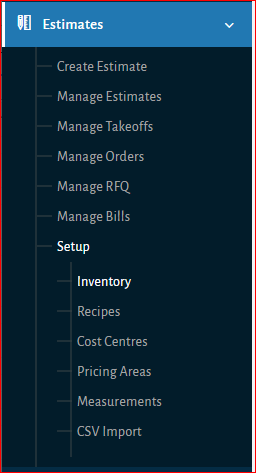 When you click and inventory item, you'll notice that each item allows for multiple prices by simply clicking on "Add Price" - this creates a fresh new line.

From here you have the following fields:
Valid From - This is the field we want to use for the forecasting, it is the date that this price becomes valid. So when building an estimate if this date is current then it is the default price the system uses. But by having future dates in here we can forecast our prices based off todays valid date versus a future valid date.
Price Area - The default area this price is used for. So if the estimate is for a job in Brisbane, it will select our Brisbane price by default. (can be changed in the estimate).
Supplier - Default supplier, when adding the item to an estimate this is the supplier it will automatically assign to, saving you time when it comes to ordering. (can be changed in the estimate).
Price - Our price for that time frame, MyConstruct will pick automatically the lowest 'current' price when estimating (where the valid less than or equal to today's date) - can be changed on estimate.
Unit - The unit of measurement, eg: you could have price for pallet of bricks and then also price per half pallet etc.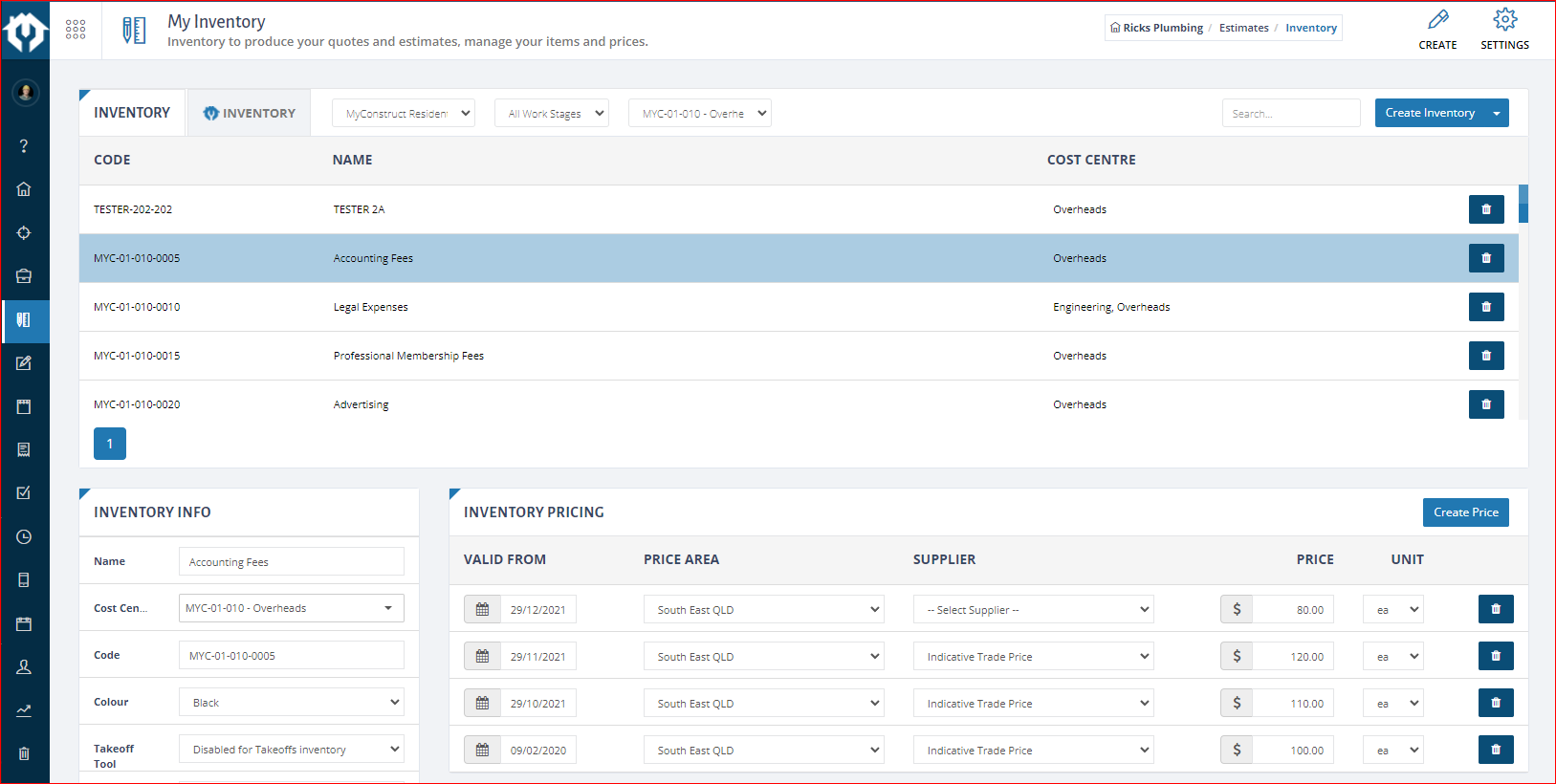 (click to zoom)
So if we were to have multiple prices and each was 'valid from' one month ahead of each other, that would allow us to forecast these items on our estimate.
Example
For this example we are going to keep it simple and show an estimate with only 2 line items, but each of these two items will have 3 prices assigned to it with future dates on top of our original 2020 price.
Then the two items simply get added on to an estimate: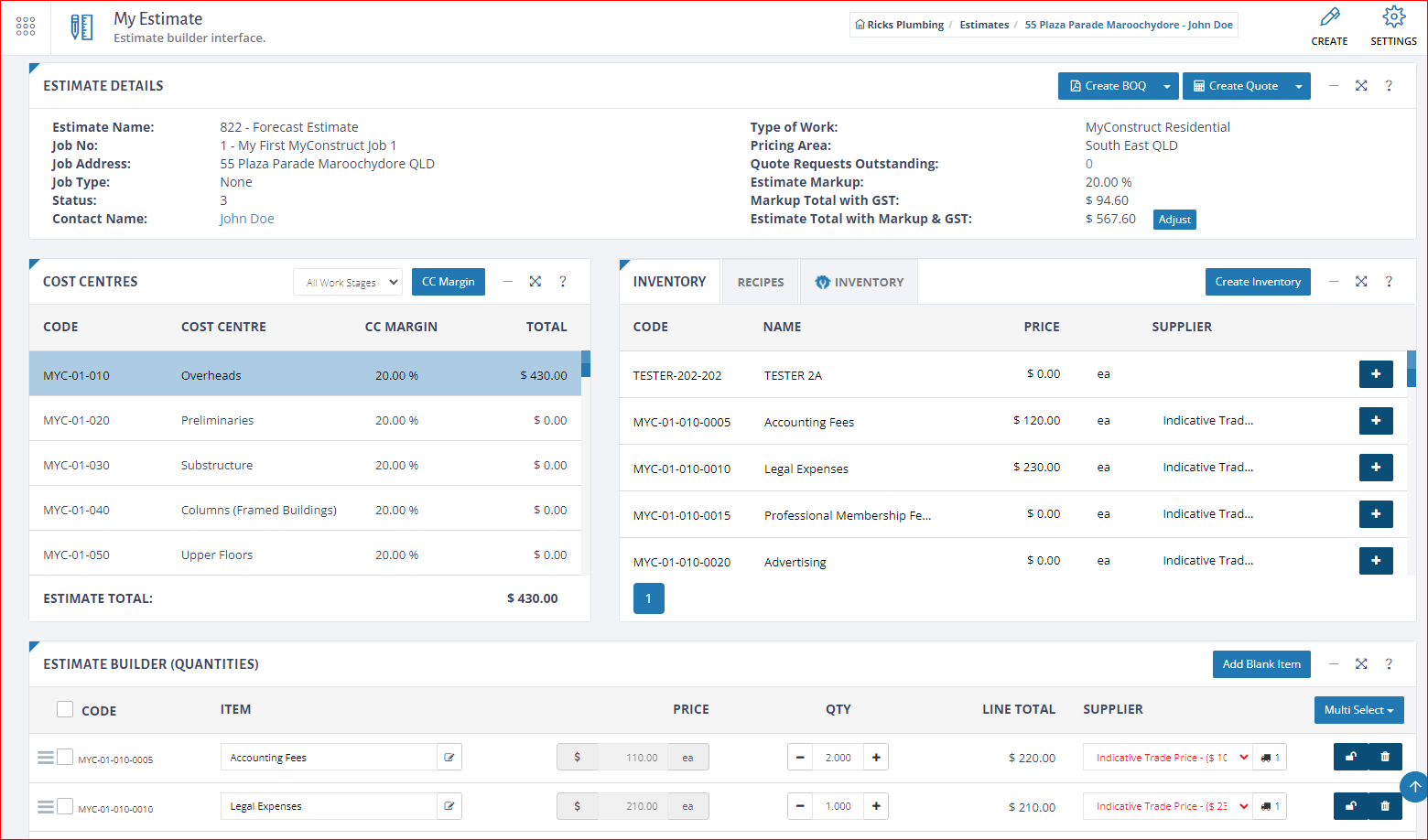 (click to zoom)
So for right now the total is: $567.60 - inc gst and markup.
Now if we navigate back to the Manage Estimate area and select the dropdown menu, then "Price Forecast"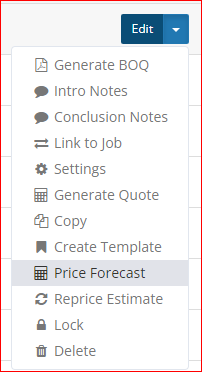 MyConstruct will now show the Estimate as we have created and saved it, with our current price (at the top of the page)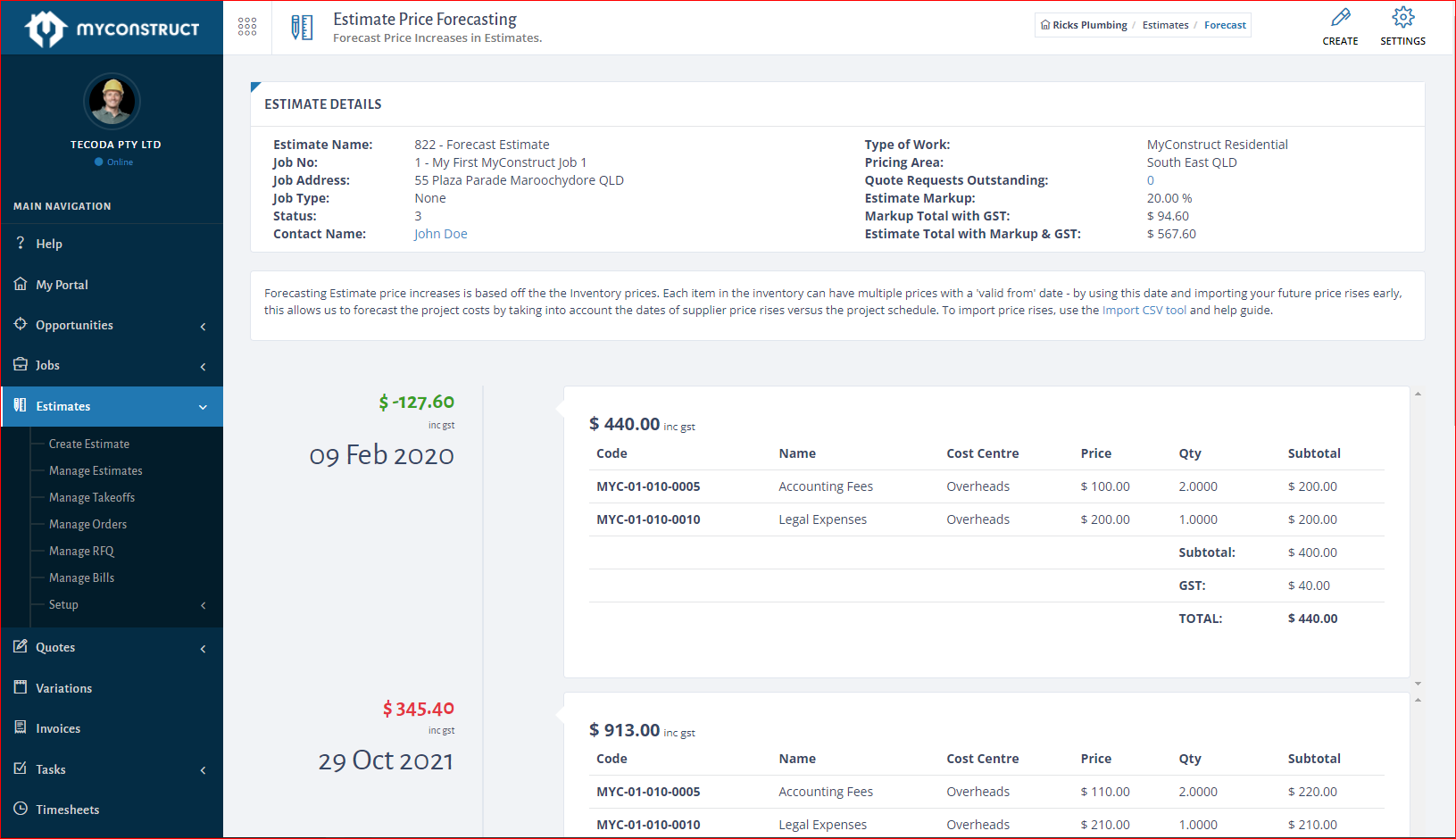 (click to zoom)
Then by scrolling down we will see the items that change in price going forward month by month.
This is how we forecast the variance of our Estimate.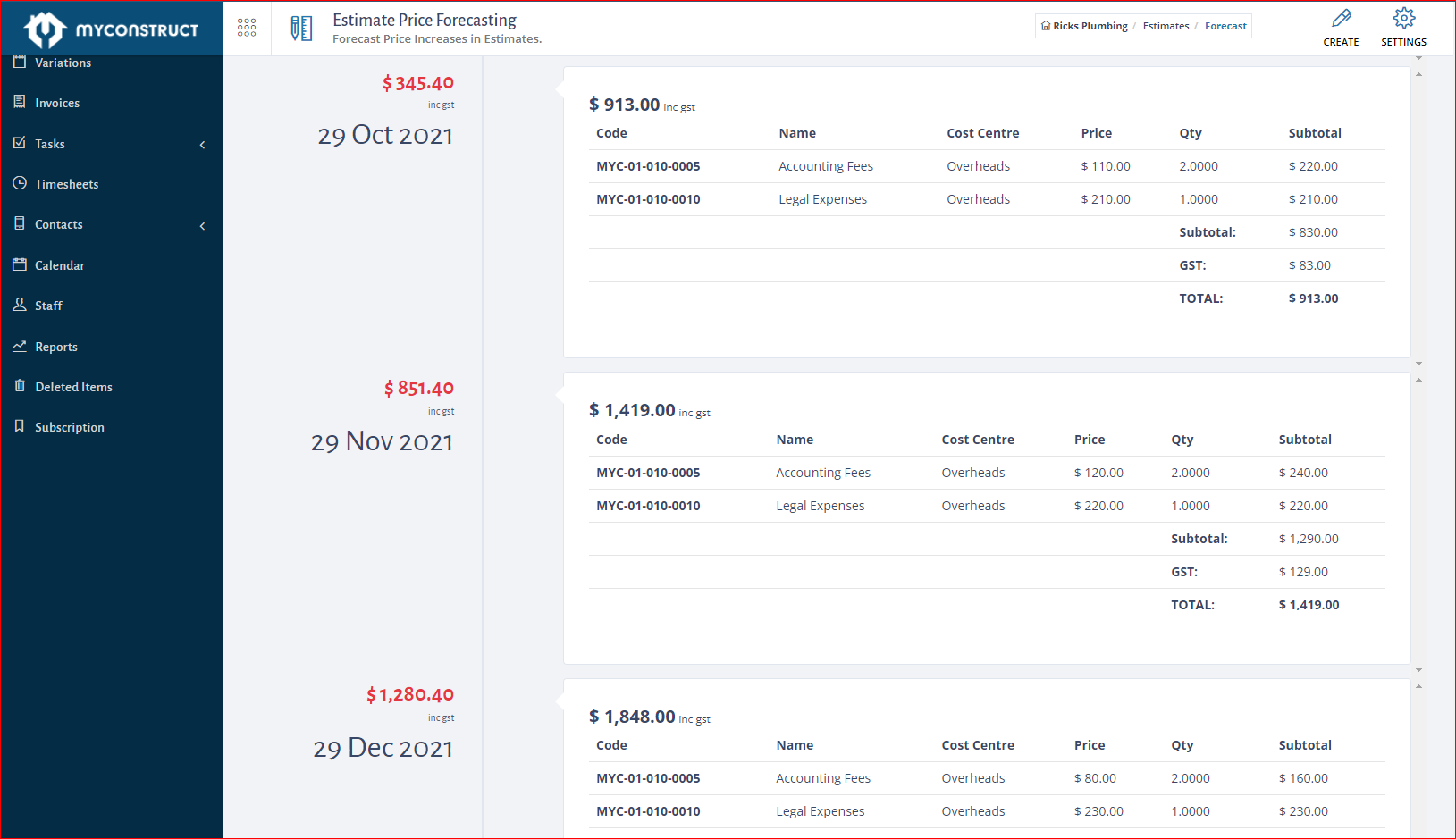 (click to zoom)
So if a client asks us for a price in January and then they don't proceed until a month or so later, this quick forecasting tool will allow us to quickly see at a glance the materials or even trade rate price increases that we must allow for in forecasting.
This is very helpful if your suppliers provide you future price rises either via an Excel document or a simple percentage increase.
So this is all well and good, but who has time to enter all these dates and prices..... Well.. that's where our old friend the CSV importer tool comes in handy. You have 3 ways to do this quickly.
Export your existing inventory items and add a valid date field and adjust the price per line and then import this.
Export your existing inventory and have your supplier update it, paste their new rates in or using a formula in excel you can do a percentage price rise.
If your supplier sends out a price file, simply import this and use the "price rise" option on the importer, you can add a future date as an extra column, or simply leave it off and MyConstruct will use today's date, you can then use the tool to change this during import as well if needed.
Check out the CSV Inventory importing guide here, for a more in-depth look at importing CSV / Excel files directly into MyConstruct.