[Note - this feature is only available in Pro subscription]
Managing your Inventory, Cost Centres and Pricing can be a real pain when there's hundred or even thousands of items to keep track of when you're estimating.
The good news is MyConstruct has some tools to help easy the frustration of managing your data.
When setting up MyConstruct we have a pre-loaded 'Indicative Trade Price' which comes with the Pro subscription, this is a good starting point just to use as a base / template and add your items as you go.
We have a guide about getting started using our example date here.
Otherwise there's two options to get your Inventory into MyConstruct quickly.
Both are via the CSV Import tool.
The CSV Import tool can be found in the main menu of MyConstruct under Estimates and then in the Setup submenu.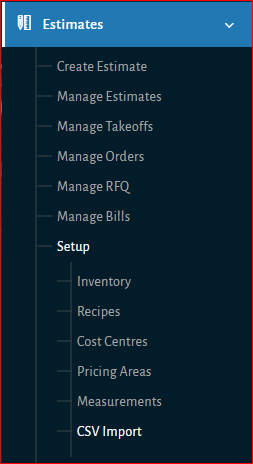 From the CSV Import tool, you can get started with two options we mentioned at the bottom of this page (yellow highlight), first being to download our example CSV file and use this as your template to edit and get started with. The second option lets you export your current MyConstruct inventory as a CSV to use as the template, this will also let you choose a specific cost centre or use the MyConstruct demo data as well.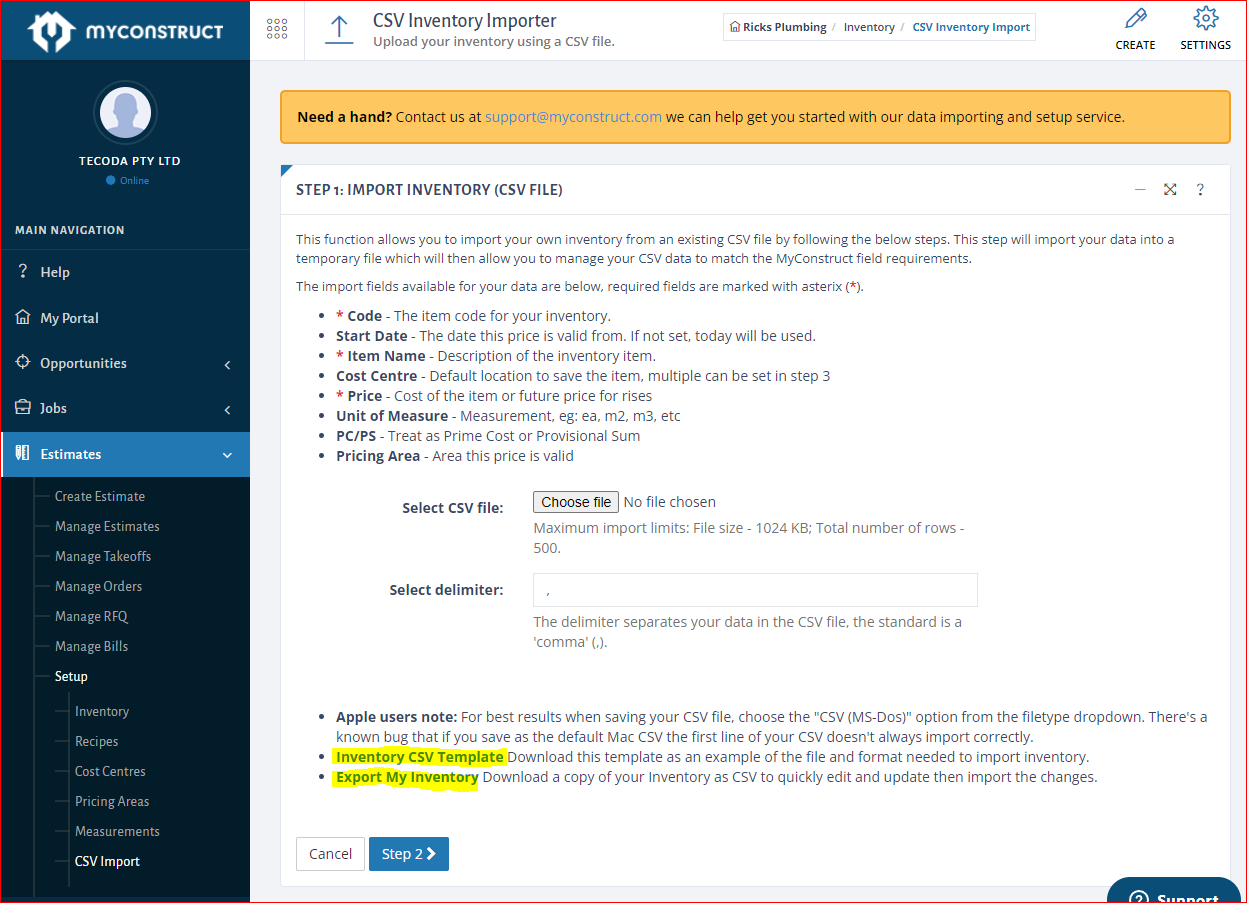 (click to zoom)
Example of the first option, saving the 'Inventory CSV Template.
The file will open in Excel and look just like this.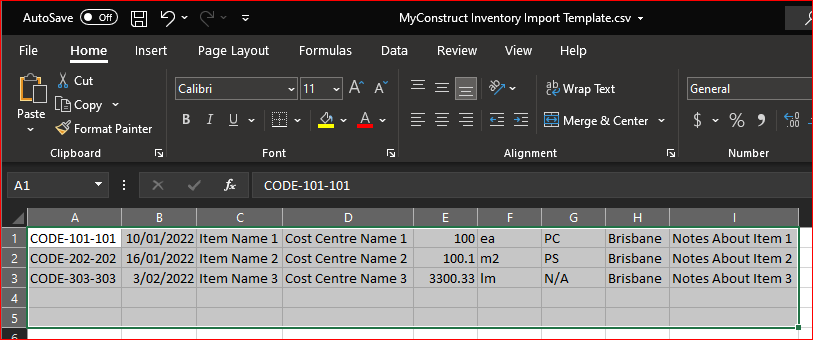 (click to zoom)
Note the columns are in line with the MyConstruct exporter's suggested columns, though only the Code, Item Name and Price are mandatory, you can skip the rest and use the importer tool to add this detail in the next step. Your data can also include extra columns, MyConstruct will just ignore any excess data that doesn't get mapped (next step).
Example of option two, exporting your own CSV - 'Export My Inventory'
Your second option is click on the Export My Inventory.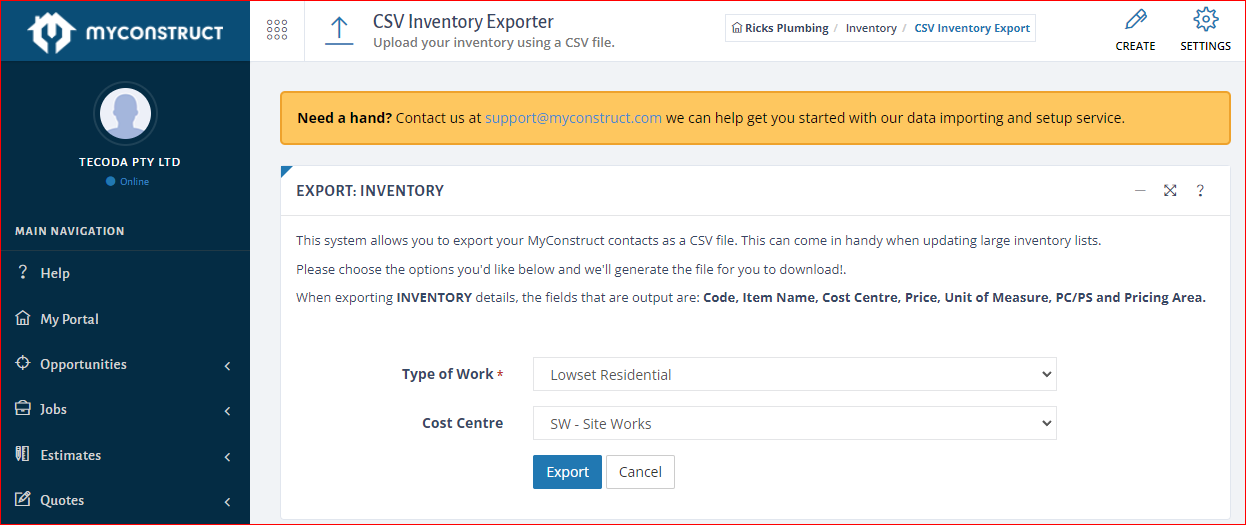 (click to zoom)
This tool will export your chosen data in the same format as show above in the screenshot of the demo data CSV file.
Once you have got your CSV (Excel) file done and ready to import, the next step is simply to click on the "Choose File" button and browse to your file.
Note when you're in Excel you need to click "Save as" and select the "CSV (MS-Dos)" option from the filetype dropdown. There's a known bug when Apple Mac users save the file in a different CSV format it will cut off the last line, so look for the MS-Dos option if you're not on Windows.
Step 2 - Mapping your data
Once you upload your CSV file to MyConstruct, the next step is mapping your columns to the MyConstruct database. Do do this all you need to do is simply use the dropdown menu next to each column MyConstruct requires, then change the letter to the corresponding column letter in your CSV file, which can be seen at the bottom of the screen for ease of use.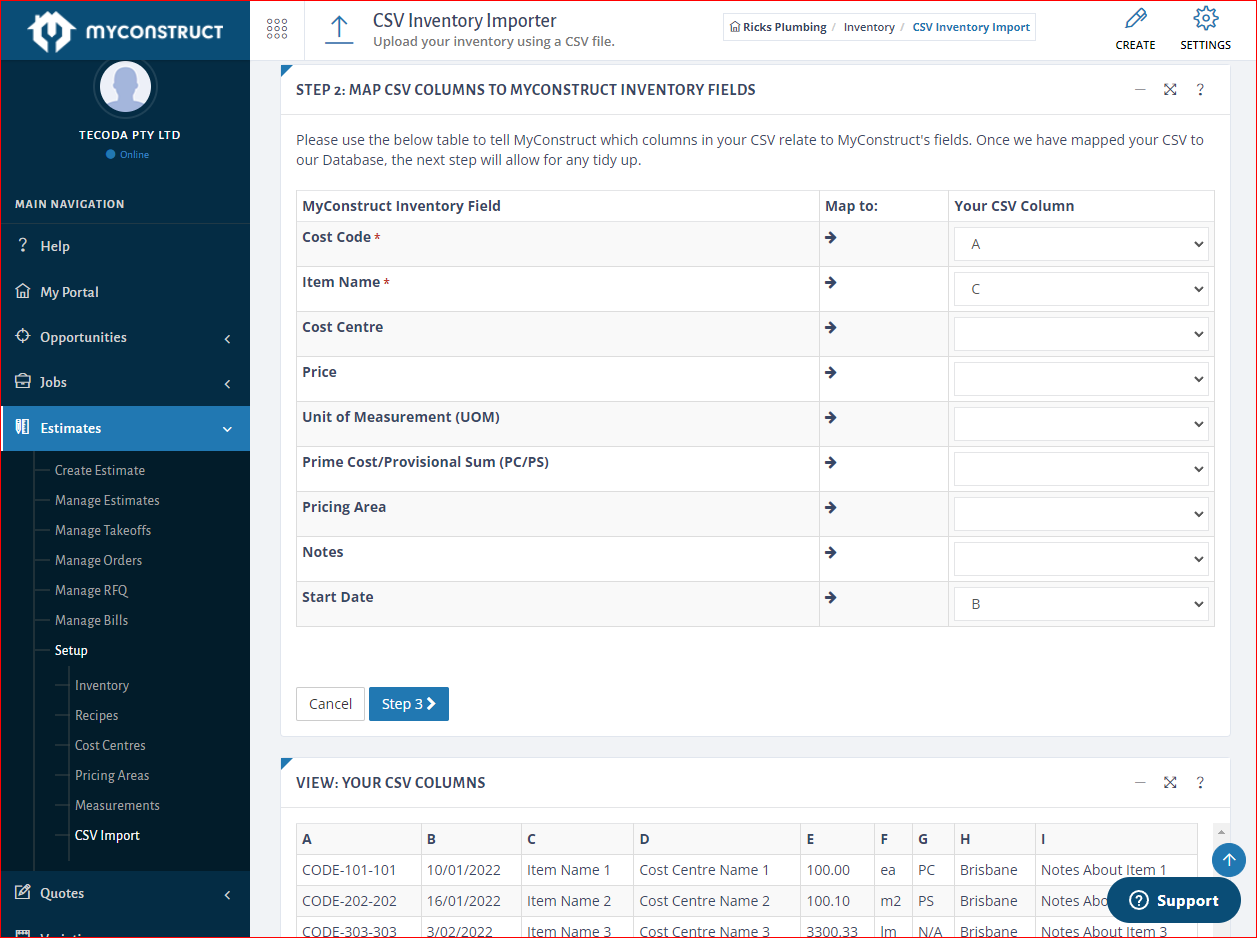 (click to zoom)
In the above screenshot you can see we have mapped 'Cost Code' from MyConstruct to our CSV column 'A' which has our codes in it.
Then 'Item Name' is mapped to letter 'C'.
Finally the 'Start Date' is mapped over on column 'B' of our CSV file.
Note: While there's no hard 'mandatory' fields, there are the suggested bare minimum fields that MyConstruct needs to make life easy for you when importing, you can use the tools on the next step to fill in any blanks, but the more data you can provide and map from your CSV to MyConstruct the easier the next steps are.
The tidy up tools can assign Area, Cost Centre, Measurement and PC/PS values super fast, but unique fields such as Item Name, Code, Start Date, Price and Notes are slow to manually enter, so you want these in the CSV.
A good CSV should have: Item Name, Code and Price at minimum.
Step 3 - Tidying up the data
Once you've mapped your data the next step lets us clean up any missing fields or make changes to the inventory items before finishing up.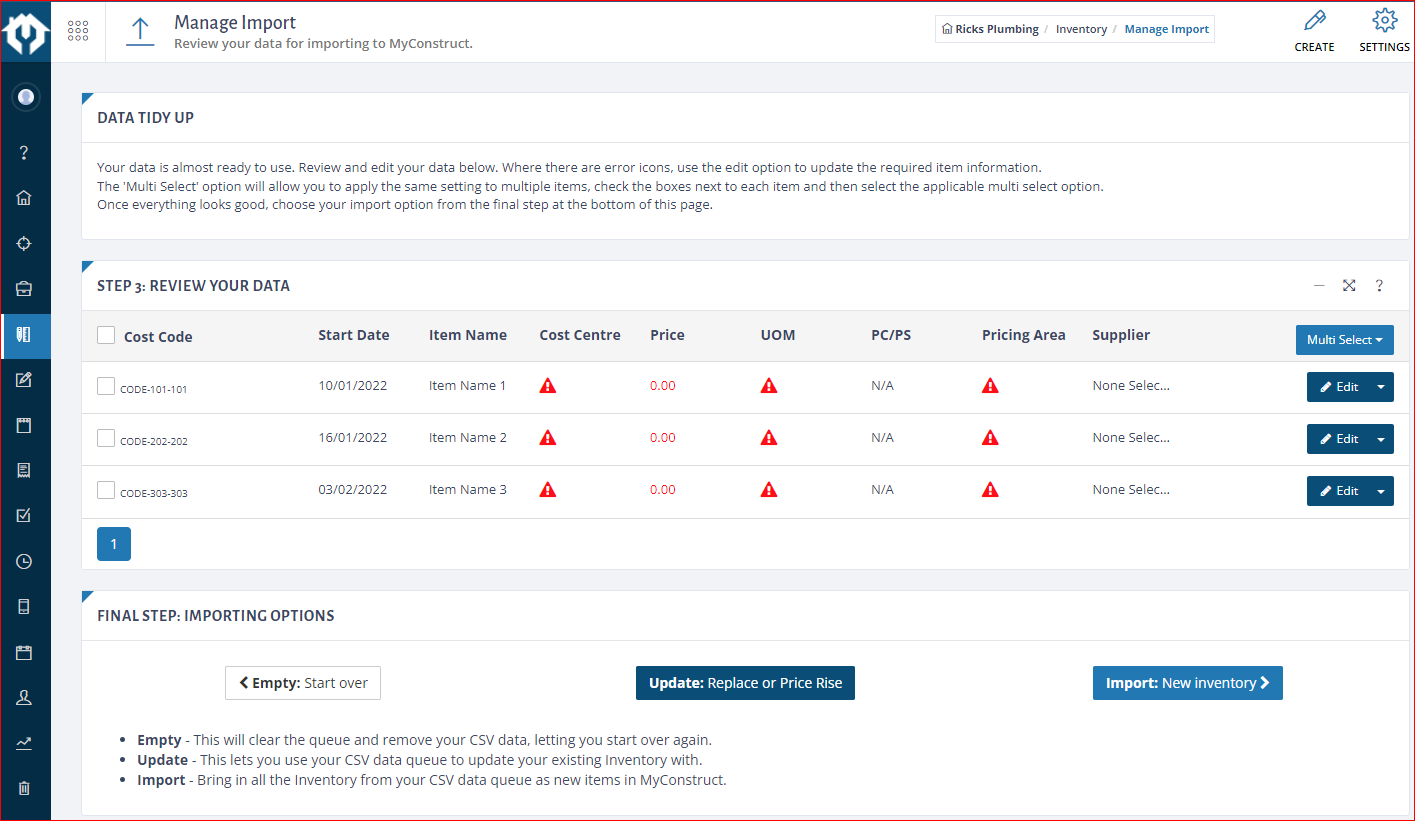 (click to zoom)
Notice the missing data shows as a red value, all we need to do now is edit this rows via the 'edit' button to fill in the missing data, or use the multi-select tool by just clicking the checkboxes and using the 'multi Select' button and using the tool related to missing data.
So for example we skipped nominating a Cost Centre on our import, so let's select all rows, then use the 'Edit Cost Centre' tool from the 'Multi Select' menu.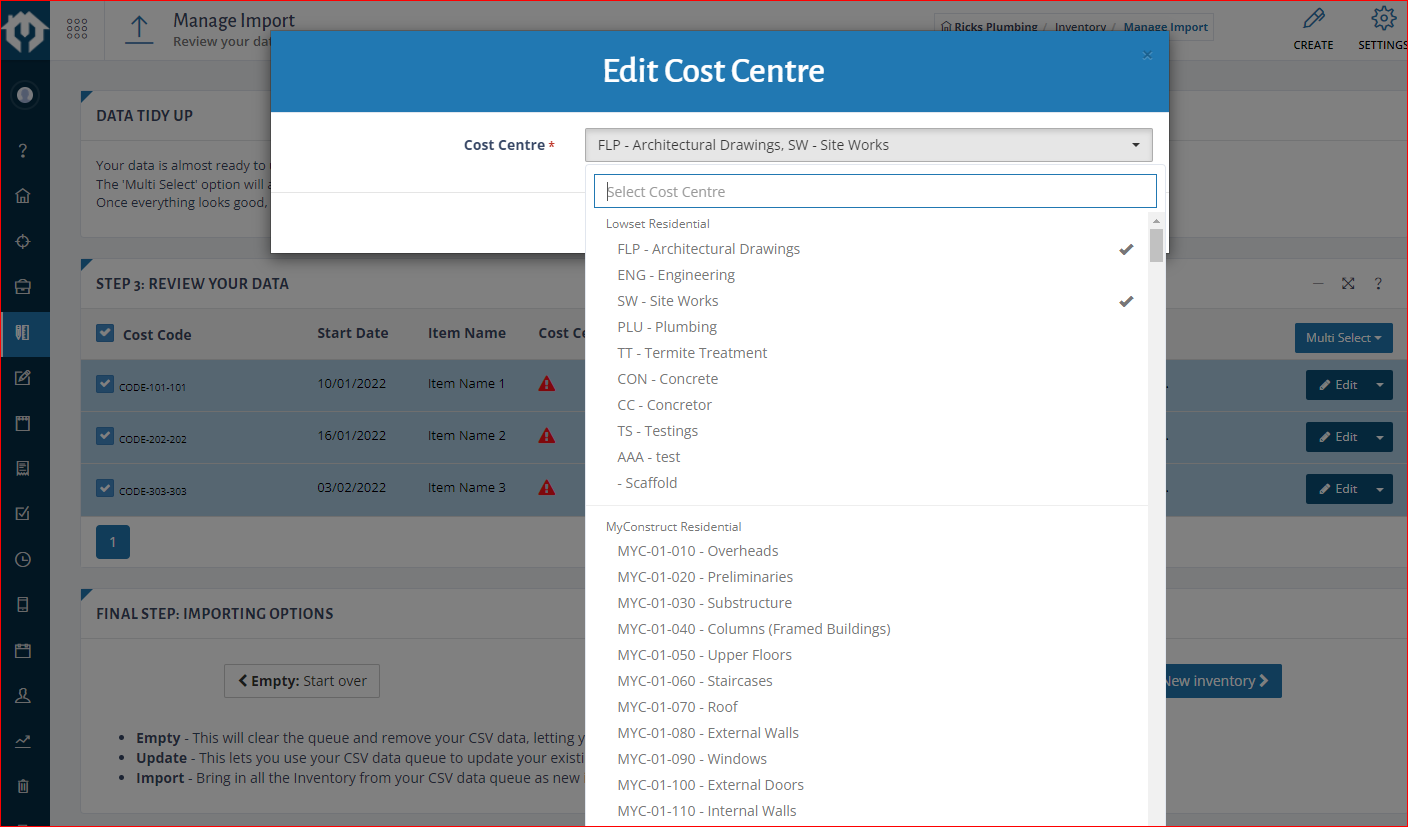 (click to zoom)
In this example we just mapped these inventory items to both the 'Architectural Drawings' and the 'Site Works' cost centres as you can keep inventory in multiple cost centres and types of work.
Simply repeat the steps above to update all the missing required (red) items until everything that was skipped during import has been supplied. If you have a lot of items, make sure to go through each page of the importer.
Final step
Once all the required data has been updated and there's no outstanding red items, the final step is choosing how you'd like MyConstruct to handle the import.

(click to zoom)
Options:
Empty

- This will clear the queue and remove your CSV data, letting you start over again.
Update

- This lets you use your CSV data queue to update your existing Inventory with. This is also the option you want to use for adding price rises - this will allow you to bring in future inventory prices with a set 'Start Date' - required for using the Estimate Forecasting tool.
Import

- Bring in all the Inventory from your CSV data queue as new items in MyConstruct. This brings in all the items to your MyConstruct inventory without changing any existing data - be careful not to create duplicates with this.